Barcelona is a city known for its iconic landmarks, world-famous architecture, and bustling streets. However, there's a neighborhood that often goes overlooked by tourists in favor of more popular destinations – the Gothic Quarter. This historic area is filled with narrow, winding streets, charming squares, and hidden courtyards that are waiting to be explored. If you're looking to uncover the secrets of Hidden Barcelona, here are some of the hidden gems of the Gothic Quarter that you won't want to miss.
For more information about the Gothic Quarter in Barcelona, be sure to visit the Gothic section of the Hidden Barcelona website.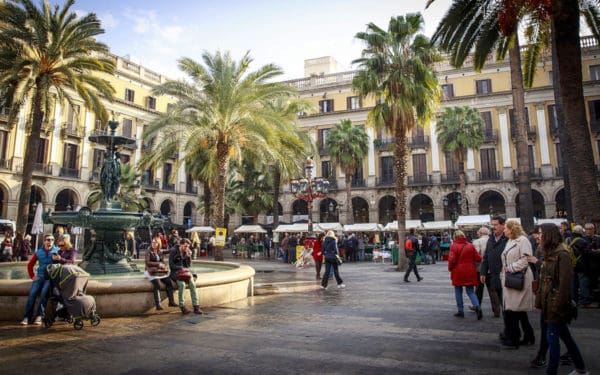 Plaça del Rei
This charming square is located at the heart of the Gothic Quarter and is surrounded by beautiful Gothic buildings, including the Palau Reial Major (official website) and the Saló del Tinell (official website). Plaça del Rei was once the center of political and royal power in the city and is a great spot to relax and people watch.
El Call
El Call is one of the oldest Jewish neighborhoods in Europe and is a maze of narrow, winding streets filled with historic buildings, charming courtyards, and small plazas. Be sure to explore Carrer de la Princesa, one of the most picturesque streets in the city.
Basilica of Santa Maria del Pi
This beautiful Gothic church is located in the heart of the Gothic Quarter and is known for its impressive stained glass windows and soaring arches (official website). The Basilica of Santa Maria del Pi is surrounded by a charming square where you can relax and enjoy the views.
Casa Amatller
Casa Amatller is a stunning Modernista building designed by the architect Josep Puig i Cadafalch. It is considered one of the most beautiful buildings in the city and is now a cultural center (official website). Visitors can admire the stunning architecture from the street.
Els Quatre Gats
Els Quatre Gats is a historic café that was once a popular hangout for artists and intellectuals in the late 19th and early 20th centuries (official website). Today, visitors can still enjoy a drink or a meal in the charming atmosphere of this iconic café.
Conclusion
These are just a few of the hidden gems that you can discover in the Gothic Quarter of Hidden Barcelona. Whether you're a history buff, an architecture lover, or just looking for a quiet place to escape the crowds, this historic neighborhood is sure to captivate you. So next time you're in Barcelona, take the time to explore the Gothic Quarter and discover its many hidden treasures for yourself.